giant finance+
frequently asked questions
Your time is precious! So we've gathered a few of the questions we get asked most. We'd love the opportunity to talk to you so please get in touch if you can't find the answers you're looking for.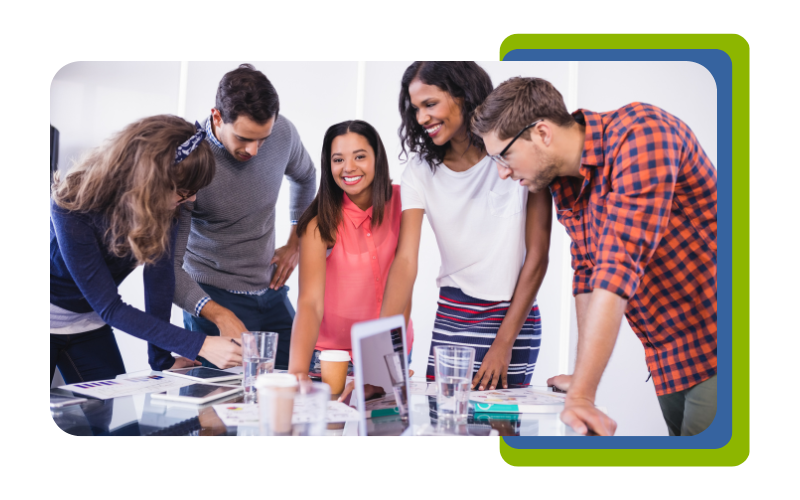 Who are your services suited to?
They are suited to any recruitment business that either wants support with back office management or finance or both.
What is invoice finance?
Invoice finance is the sale of your invoices to a financier, such as giant, for a payment of up to 100% of the gross value of the invoice (the billing amount plus VAT). When the debtor pays, giant repay this advance payment and pay the agency back the balance less our charges. This works on a revolving basis with all agency invoices, providing you with the cash to pay your workers on time, pay yourself and your staff and turn your attention to growing your business.
Why is this type of finance used?
It allows a business to start trading with little or no capital and grow safely.
Why do you chase the invoices?
We have paid you for the invoice so we need to collect the proceeds from your customer. We agree a chase cycle with you and share all collections activity via the system. Our systems are badged in your name and we chase on your behalf with your agency logo on too. We take the view that your customers are very valuable and we see this as a joint approach.
Why do you say up to 100%?
When we provide an advance payment to you we are taking a risk on the debtor paying the balance, we need to set a credit limit to pay at 100%. If the credit limit does not cover the balance, we might not be able to provide the full advance payment. We also reserve the VAT value to ensure you keep a reserve to pay to HMRC.
What is a credit limit, is it insurance for me too?
Yes, our credit limits are also bad debt protection for you. Which means that if the customer doesn't pay, and we have a credit limit in place, we recover the advance payment from our insurer and pay you less a first loss.
How quick can I get "credit limits" as I hear this can be an issue?
You have dedicated email address and can give you answers on limit request within an hour, larger limits responses may take 24 hours. We also monitor any declined limits and proactively notify you if these become available.
What will my customers say if they know about this finance?
43,000 companies use this type of finance (invoice finance) in the UK, probably a lot of your customers will be using invoice finance too. Recruitment agencies use this as their preferred method to cover their weekly payroll requirement to get regular cash every week to pay workers. Your customers won't think this is unusual, indeed they will take comfort that you have the finance to support your growth and their workers.
What are the fees?
We charge a % of your turnover so it is easy and simple to control for you. The fee includes the system, the finance, the bad debt protection and the credit control. It is worth comparing the cost of this with the benefit of growing your agency with added peace of mind whilst also reducing the cost of internal administration.
Why should I choose giant finance +
Here at giant, we have a deep understanding of the recruitment sector and we have developed our product with you, the customer, in mind. Our product provides you everything you need for your workflows and finance needs. From worker on-boarding, timesheet management and invoicing to finance and credit control. We deliver this through our system branded in your name which is fast, clear and simple to use. Compliance and process are our watch words since 1992.
Will I have a personal contact who I can speak to if I need to resolve a query or change the facility?
Whilst we believe that systems are the way forward to reduce administration and your internal costs, we know it is important to have a person to speak with. You will always have access to a member of our team who understands your business. You will have a dedicated client manager, credit control and administrator who are one call away. We also provide a ticketing system to support.
Can I not just get this from a bank?
Invoice Finance is a main source of finance for small and medium sized business as it is flexible and is secured against the invoices rather than past financial performance. Although banks do provide this, we believe our offering is the best solution for growing agencies. We have invested heavily in our systems and service over the years which means that we can deliver you a fast, clear and simple system to help your agency grow.
Can I use you if I don't require finance?
Yes, we also provide Service Only where we supply the system and our dedicated payroll service to larger clients who either do not require finance or who are obtaining their finance from their bank.
You say you are simple to use, fast and clear – give me an example of this?
Simple: for example, our timesheet system allows your end hirer to approve online and then automatically raises an invoice, which is emailed to them and then applied to the finance account. Allowing money to be available to you all in seconds from the time we verify the invoice.
Fast: our credit limit service allows limit response by return so you can move smoothly through your sales process, this can sometimes take days at other providers
Clear: we share data and management information in a way with you that is helpful to you rather than us!
Webinars | Insights time with Rich & Mike
live event | register now
This month Rich and Mike are joined by a guest speaker Ian Jackson of Macintyre Hudson finance brokers to talk about Recruitment companies funding and raising finance.
recording
In April's webinar, Rich & Mike were joined by giant group's marketing manager Holly Spiers who provided a few top tips about social media and using it to grow your brand.
recording
In this webinar, we covered the impact of the National Insurance increase and the national minimum wage on recruitment agencies and digital return-to-work solutions.